Our Firewood:
All about the logs we supply
It has been said that with firewood it is 'back to the future': burning wood as well as being such an interesting and pleasant way to lighten up and heat your home has also become, in recent years, a very economic way to do so. With the knowledge and expertise accumulated over the last 30 years Logs Logs Logs has built a very distinct and enviable reputation for a quality product and service. Every effort, and not a little investment, has been made to ensure that customers have a very pleasurable experience when they do business with Logs Logs Logs.
By kiln drying firewood you eliminate much of the variability of seasoned wood to produce a much more uniform, predictable and consistent product to burn, as well as having a brighter, cleaner appearance.
Almost all problems associated with burning wood are caused by damp fuel. To burn effectively wood needs to be dried out to a maximum of 15 to 20% moisture. For every 10% reduction in moisture you will get just over 20% more heat. Therefore, wood with a moisture content of 30% produces 30% less heat than wood with a moisture content of 15%.

So be careful what you buy!

To see what is available please go to Prices and Ordering. For more details about the advantages of kiln dried logs and bulk bags please see Kiln Dried Logs.
Size of our logs to suit your fire and woodburner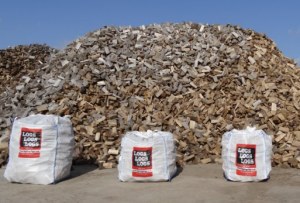 We cut wood to three lengths, with the predominant sizes being 20 cm (small), 30 cm(medium) and 40 cm(large). The diameter will mostly be 8–15 cm. The thinner logs being ideal for starting your fire & the chunkier ones perfect for that longer burn.
Firewood is an environmentally friendly source of fuel & also an increasingly cost effective way to heat your home.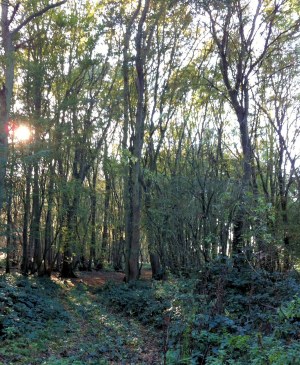 Government interest and encouragement of woodlands as the ultimate in renewable sources of energy & the growth of the firewood market has brought many neglected woods back into management. Many of these woods have been producing wood to cook food on, or provide heat and light since the beginning of time and are likely to continue to do so. As in the picture this wood has been coppiced numerous times and is just as productive now as in centuries ago.
Using renewable energy such as firewood from well managed woods not only reduces carbon emissions particularly when compared to fossil fuel, such as coal or oil, but also helps to improve conditions for wildlife.
What species of hardwood?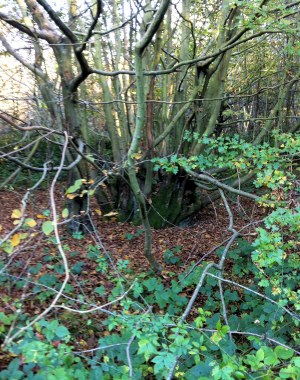 All our hardwood is selected from the best species; beech, oak, hornbeam, ash, sycamore and silver birch being the main ones. Each species has different burning characteristics. For example, as folklore says,
"Beech-wood fires burn bright and clear, birch will burn too fast, blaze too bright and will not last, ashwood is fit for a Queen with a golden crown and oak logs , if dry and old , will keep away the winter's cold"
By harnessing and blending these different burning characteristics provided by the natural world you will, we hope, find your logs will burn not too quick nor too slow but in such a way that there is plenty of heat produced and will give you a great feeling of well being night after night.